We're light-weight versions of one of the lunatic-fringe elements in motorcycling -- long-distance riders. We do enjoy a day, or even just an afternoon, of local riding to view the scenery, or get lunch and an ice-cream cone, or to merely get away from the house for a while. What we like much better, though, is a good, multi-day (or multi-week!), across-the-country tour, whether to take in some special site or attraction, or to hit a big rally, or to see an area of the continent we're not seen before. Keith takes this even further, occasionally riding long distances (up to 1000+ miles per day), in minimal amounts of time, just to see if he can do it. He is, as are most other lunatics of this type, a member of the Iron Butt Association.
Touring and long-distance riding are reflected in the equipment we use. Our more recent bikes tend to be sophisticated machines designed to eat a lot of miles quickly and effortlessly, while carrying a rider and pillion in relative comfort for many hours per day. The electronics include integrated GPS, an intercomm system, optional bike-to-bike radio, and satellite radio and a full digital libray for entertainment. Our personal gear leans toward the "astronaut" look -- modular (full-face, flip-front) helmets, armored jackets and pants, with mesh, venting, and/or rain protection as appropriate, dedicated riding shorts and wicking and/or insulated shirts, high, padded, leather boots, armored gloves, and all the accoutrements, in various (and not necessarily matching) bright colors. We're 99+% compliant with "ATGATT" (all the gear, all the time).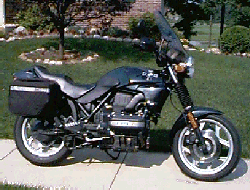 Our motorcycling started off in 1993. Keith hadn't thrown a leg over a motorcycle since a friend's dirt bike in high school, and Katie had no experience whatsoever, but we came across a deal we couldn't pass up -- a 3-month-old, '93 BMW K75, with fewer than 2000 miles on the ticker, at below market price. The K75 was a smooth and powerful bike; a shaft-driven, 750cc, in-line 3-cylinder job in a beautiful metallic, charcoal black color. Keith got a motorcycle endorsement for his license, and we were off.
At some point Katie started thinking she would like to try a bike of her own, rather than ride pillion all the time. So, we found a really good deal on a nice little Yamaha 250 single-cylinder street bike that was perfect for practicing. Both of us attended the Motorcycle Safety Foundation's three-day course for beginning riders (which we highly recommend for all motorcyclists, regardless of age or experience -- Keith has since attended the MSF's Experienced Riders Course, as well). After Katie got her own motorcycle endorsement, she was pretty soon hitting the showrooms looking to trade in the little bike on something new.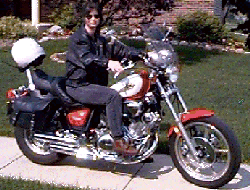 Katie ended up getting a new, gorgeous red-and-white '95 Yamaha Virago, a fairly large 750cc V-twin cruiser with lots of chrome. It's a very reliable, shaft-driven bike with good power. It came fitted with saddle bags, a wind screen, crash bars, and some other various little chrome knick-knacks. Katie rode it around for a year or so, but eventually decided that, all in all, she had more fun riding as a passenger on our outings. So, she sold the bike and is now back to riding pillion with Keith. It's amazing, though, how much her experience as a rider improves our riding when she's a passenger.
Our typical riding has evolved over the years. At first, we did a lot of couple-hours to day-long trips around Ohio with a local riding club. Saw a bunch of neat stuff, and had some great lunches with fun people. But, Keith fell in with a few folks who were not at all afraid of some long-distance hauling, though, and the itch started.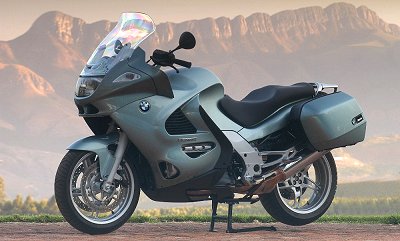 The K75 was a great bike for commuting, and for riding around the local countryside. As a "naked" bike, however, even with a bunch of minor farkles we added, it wasn't truly set up for any serious long-distance riding. So, in early 2003, we sold the K75 (which Keith still sometimes regrets) to a riding buddy, and purchased a new BMW K1200GT -- a serious sport-touring, haul-ass machine based on the K1200RS sport bike, but with some added touring ammenities. In metallic silver-green, our GT was a new BMW model that year, offering a heated seat and grips, an electrically-adjustable windshield, electronic cruise control, and other niceties. We added a trunk with a backrest for Katie to lean against, a long-distance saddle, some auxiliary lighting, and a bunch of other farkles.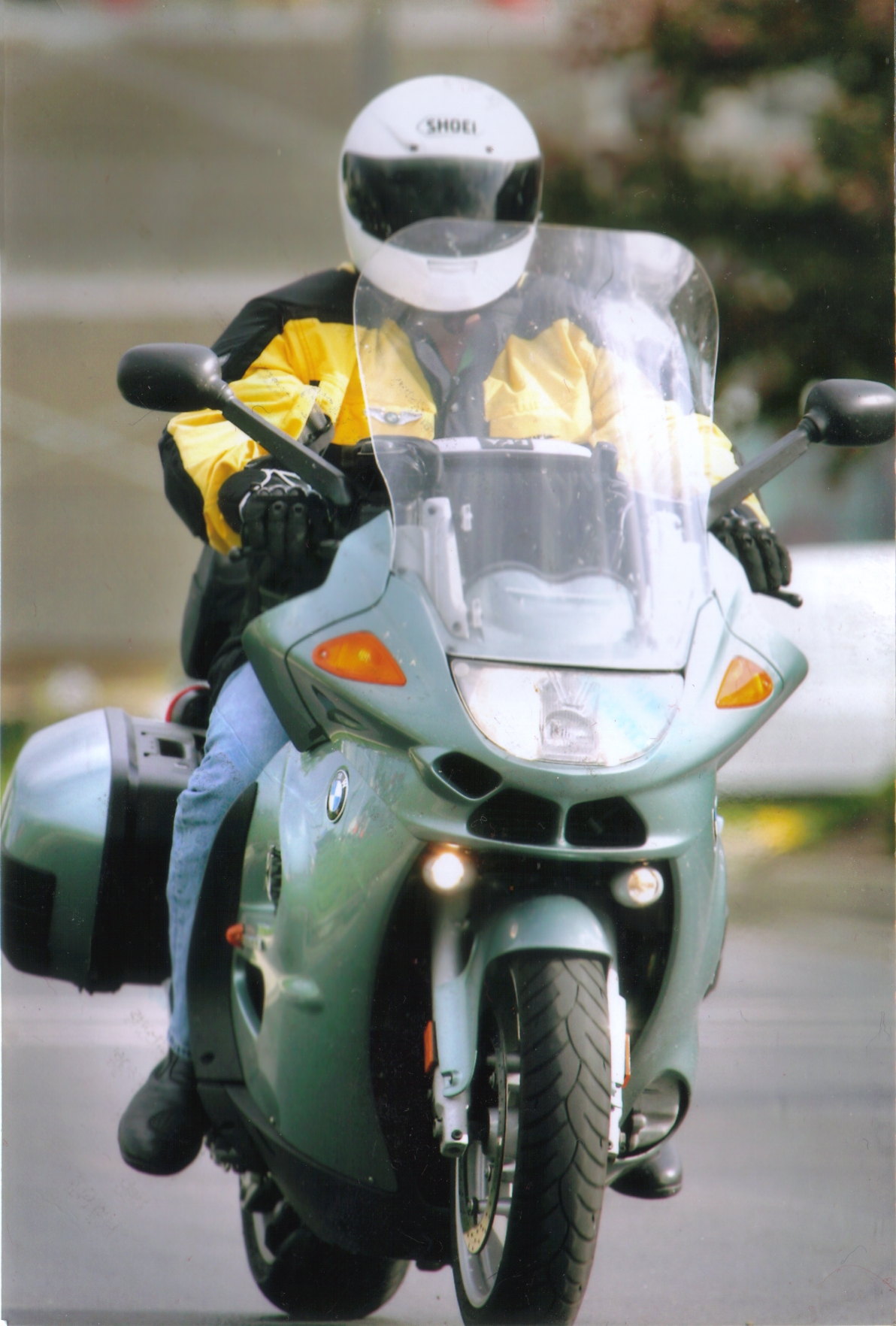 With the GT, our riding started to lean more and more to touring/LD as time passed. Now, a ride of several days to a couple of weeks, covering thousands of miles and double-digit numbers of states and/or provinces is more common than a lunch run. The BMW MOA International Rally is a pretty-much regular destination every summer, now, regardless of where in the country it is. We've been to it in Tennessee, Missouri, Montanna, and twice in Oregon (once via Arizona), among other places. We've also been on a 10-day tour through western Europe (on a rented BMW R1200RT), a buzz down to Texas to ride the "Twisted Sisters" in "hill country", the Blue Ridge and Natchez Trace parkways, the gulf shore and Key West, the New England states, around the Great Lakes, etc. Every spring we join the "Blitz to Branson" where a small group of folks spend a long weekend riding the awesome roads of NW Arkansas and the surrounding area. And, every now and then, Keith and some buddies will take off to someplace in North America, for any or no reason (because Katie doesn't have as much vacation time from work).
We had a wonderful ride planned for a BMW MOA rally near Buffalo, NY. The plan was to ride to Connecticut and eat at Mystic Pizza, then spend a day with a buddy riding Cape Cod, then wander up the northeast coast and tool around the Maritime Provinces for a couple of days. Then we'd head west through Maine, New Hampshire, and Vermont, stop and enjoy the rally for a few days, then do the short zip home. However, a couple of days before our scheduled departure, the GT (with well over 100,000 miles on its ticker) started producing voluminous amounts of white, oily smoke from the exhaust. Doh! Fixing that was not going to be quick. So ...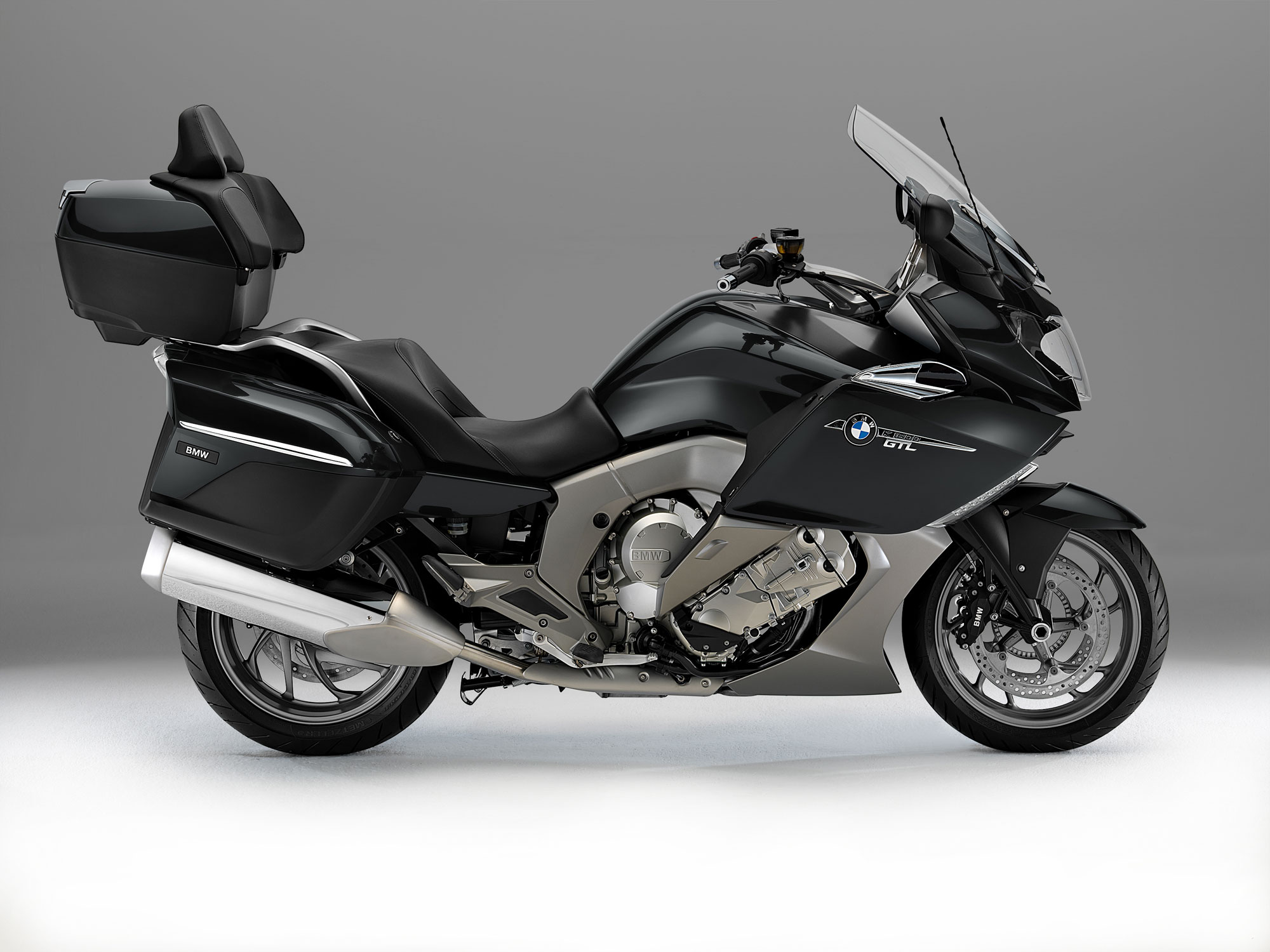 Katie had been nagging for quite a while that newer bikes treated the pillion better than did our GT, so we went to a local dealer and made a deal on a BMW K1600GTL, in dark graphite. It has so many capabilities and features, I discover a new one almost every time we ride it. And, it's crazy fast. But, it got us to the NY rally, albeit via a much-reduced ride route. It's out current ride, now, and we'll get many years of use out of it. The GT has been to all 48 lower states, and most of the Canadian provinces -- let's see how quickly the new beast can surpass that.
---

The Top Ten Cool Things About Having a Motorcycle
That Goes Faster Than the Speed of Light:

      10)  Sleep 'til noon, still get to work by 8:00am!
       9)  Doppler shift makes red traffic lights look green.
       8)  Breaking the laws of physics is only a misdemeanor
           in most states.
       7)  You'll be so thin while riding that you can even
           wear horizontal stripes.
       6)  That deer in your headlights is actually behind
           you.
       5)  Traffic enforcement is limited to cops with PhD's
           in quantum mechanics.
       4)  You can make a fortune delivering pizza with the
           slogan, "It's there before you order or it's free!"
       3)  Your custom license plate reads:  Me = mc2
       2)  Cigarette butts don't hit your helmet-- they land
           in last week!
       
And The Number-One Cool Thing About Having a Motorcycle
That Goes Faster Than the Speed Of Light Is ...

       1)  Stephen Hawking keeps bugging you for a ride!
       
---
The rest of this page consists of some links that we check out when surfing, but of course you're free to use them as well.